Supabets Instant Games Ultimate Guide
Supabets is a unique online betting site offering an exemplary range of sports bets, enticing casino games, and online slots. Recently, large South African betting sites have been adding slots and live casino games to their lobby: Betway, Hollywoodbets Spina Zonke and Bet.co.za have renowned providers in their slot games selection, yet nothing matches the sheer variety of Supabets which stands on the top with 8 different providers.
Slots are definitely a key part of the Instant Games section on Supabets, but wait until you delve into it, once you enter the lobby, you will be surprised at what else Supabets has to offer. This article will take a complete overview tour and answer the top questions regarding Supabets Instant Games!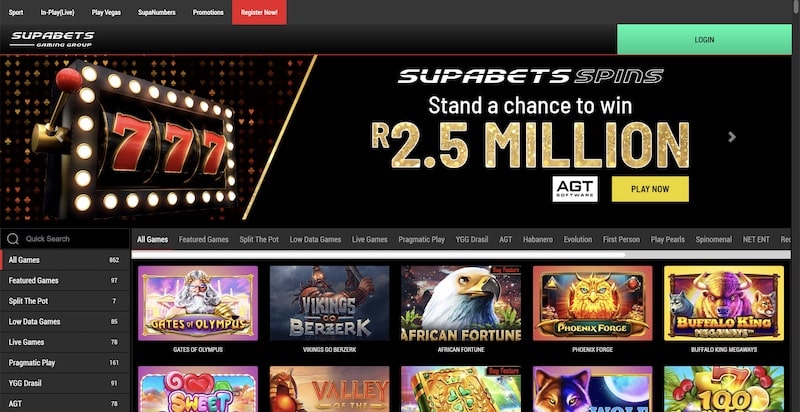 How to get started with Supabets Instant Games?
To access slot games on the Supabets betting platform, click on the Instant Games option, leading you to the game menu. You can choose between Classic, Hot (popular slot games), or All games. A functional search bar also allows you to quickly search for a game if you know the slot's name.
Supabets offers a generous promotion of a 200% matching deposit up to R5,000. Unfortunately, you can't use this bonus when playing slots. Please see the Supa Events subsection on the website to check promotions deliberately for the Instant Games section.
Many of the slots on Supabets are based on movies, events and music. Different providers make slots, so the design and functions vary. Most slots have 5 reels, but a large collection of progressive jackpots and classic 3-reelers available. Our review will look at every provider and pick the most popular games.
Supabets Instant Games Login Guide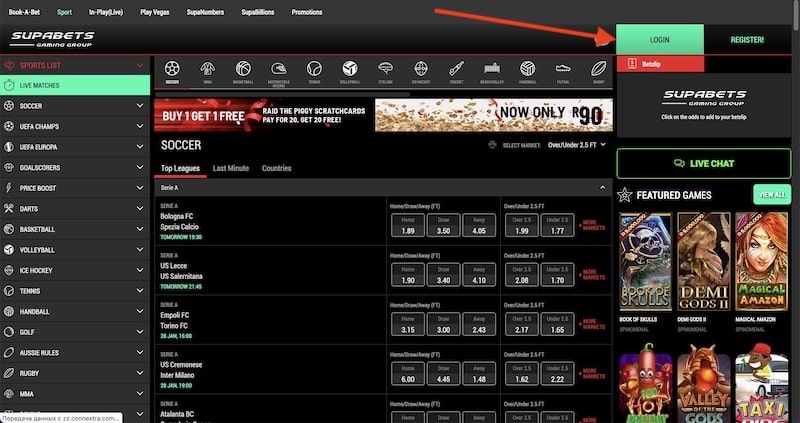 Once you have created an account on Supabets, the login process is simple. You must enter your username and password into the fields provided and click "Log In". Once logged in, you will see your balance at the top right corner of the screen.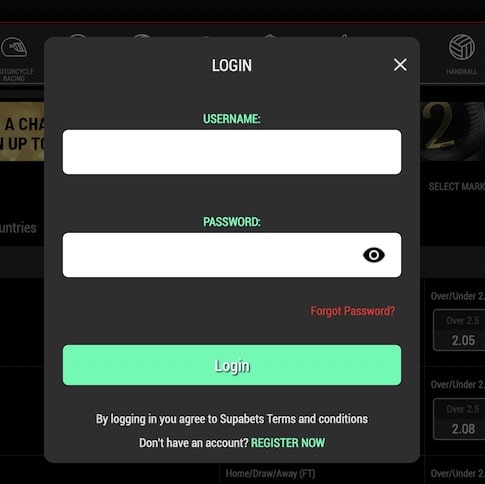 What providers are there in Supabets?
The first thing you'll notice when entering the Supabets Instant Games is that there are over 500 online slots and other casino games. This impressive selection comes from 8 providers, including Habanero, NetEnt, Pragmatic Play, Yggdrasil, Red Tiger, Aardvark, Spinomenal and PlayPearls. These are some of the best-known slots developers in the industry and bring various themes and styles to the table. For players, having such a wide selection is great, making sure that everyone can find something that suits their needs.
Habanero
If you have played Spina Zonke on Hollywoodbets, then you will know Habanero games. These are the most popular slot games in South Africa. Some of the more famous games are Wealth Inn, Hot Hot Fruit and Lucky Lucky. Slots from Habanero are generally easy to play for beginners, making them attractive to people just starting out with gambling!
The providers' games are easy to use on your phone or another mobile device. You can play and win without having to download an app or any extra software.
Pragmatic Play
There are 136 games to play on Supabets from Pragmatic Play, and you can find any style and theme you want. The graphics and gameplay of Pragmatic Play slots are so good that you will wonder why you only discovered them now!
Like Habanero, the Pragmatic play slots are part of the Supabets Jackpot Race. This is a weekly competition where Supabets customers can win their share of R100 000 every Friday by betting R2 or more on these games!
Yggdrasil
The Yggdrasil slots have been just recently added to Supabets and this means that you can't find them anywhere else in South Africa at the moment. Yggdrasil does a great job of making their slots look good and offers players a fun experience with great gameplay. All the 73 games on Supabets have amazing graphics that look like they could belong in a Pixar movie. Some common themes across these slot games include Ancient Rome, Vikings, Pirates and Leprechauns.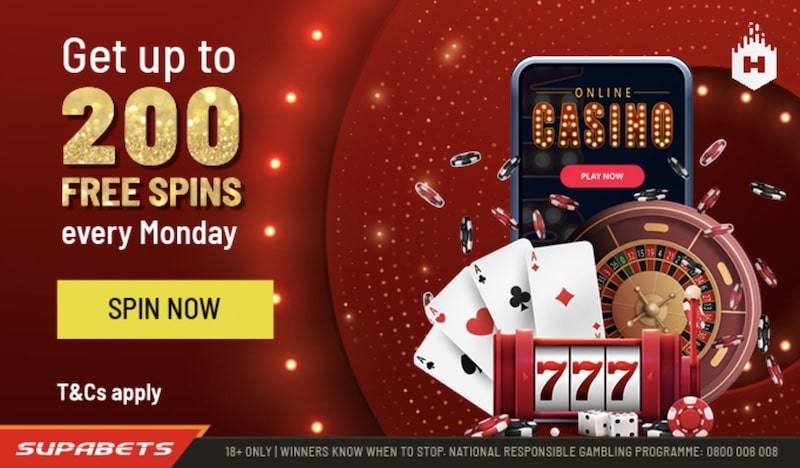 NetEnt
There are 69 new slot games available to play on Supabets. They all have different themes, features and payouts. You can find classic fruit games like Hot Hot Fruit, spinoffs from movies like Narcos, and rock bands like Guns 'n Roses. There is something fun for everyone to enjoy.
NetEnt is known for developing games that have a high chance of winning (RTP%). This means you are more likely to win when you play their slots. In addition to having a nice probability of winning, their games also have cool themes and features. This makes Supabets NetEnt games some of the best you can find on Supabets.
Red Tiger
A group of specialists who work in the casino software business started Red Tiger Gaming in 2014. At first, they only had simple 5-reel slots. But in the last few years, they have improved their games with high-quality graphics and bonus rounds.
These games are also qualified for the jackpot races on Supabets. Remember that the size of the jackpot gets progressively bigger until somebody wins!
Aardvark
Supabets also use Aardvark Gaming Technologies to bring punters 77 more slots. These games are less sophisticated than the Habanero, Pragmatic Play, and Yggdrasil products. However, Aardvark offers many card games in slots that no other providers on Supabets offer.
Spinomenal
Spinomenal has over 200 games on Supabets optimized for mobile devices. They look great and are fun to play on phones and tablets. The slots include Irish Luck, Egyptian Gods, Beach Holidays, Easter, and Christmas. Some of the most popular titles include African Fortune, Book of Clovers, Nights of Magic, and Wild Santa.
PlayPearls
PlayPearls has a lot of different slots that will appeal to all kinds of players. The games have playful themes, cool animations, and catchy soundtracks. Most of the PlayPearls online slots have free spin rounds that you can win; some even let you choose your own multipliers and mini-games to play. Some popular games you shouldn't miss are Big Game Hunter, Star Trex, and Arrow of the North!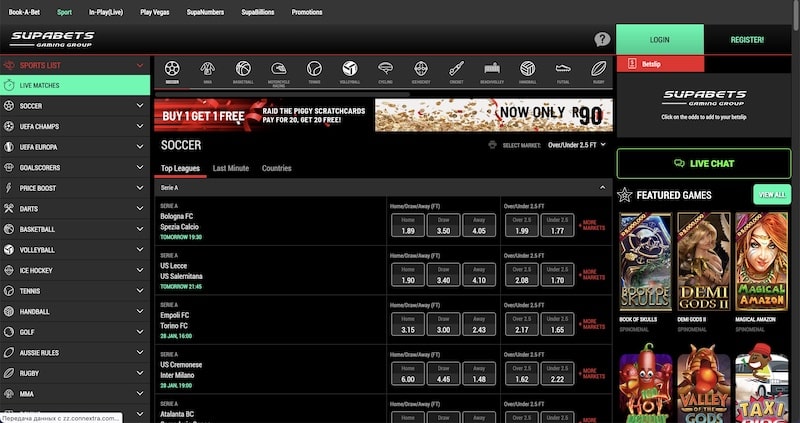 How do online slots work and how to play them?
To better understand the controls on each Supabets online slot, here are some easy descriptions of what each button means:
Balance: Funds available on your Balance.
Info: Pushing this button will show you which symbols pay the most and information about wilds, scatters and paylines.
ZAR: Look at and change the size of your coins. If you are playing one line, the least money you can bet on one spin is 1X your chosen coin size. The most you can bet is 5X your coin size.
Number of Lines: You can choose how many pay lines you want to play. Your coin size is multiplied by the number of pay lines to determine the total bet size per spin. For example, if your coin size is R2 and you choose 10 pay lines, your total bet size per spin will be R20.
Bet Size: You can click to bet 1-5X your coin size if you're playing one pay line. Your coin size and how many pay lines you choose to play determine your bet size options. Change your coin size and the number of pay lines until you have a range of bet size options that suits your budget and strategy.
Auto: Autoplay functions with the set number of spins and bet size. You can always stop it manually.
Last Win: The amount of money you won the last time you spun the wheel.
Gamble: Choose red, black, or a card suit. You will win double the money if you are right about the colour. You will win four times the money if you are right about the card suit.
How to understand the potential payouts of Supabets Instant Games?
Slots operate based on their Volatility and RTP (Return to Player) percentages. Volatility is the measure or determination of how often and how much you can expect to win during a game session. RTP indicates what portion of your bet is returned as winnings, usually expressed over a 1000-spin cycle (usually much more). For example, if an online slot has an RTP of 96%, the game will return 96% of all money wagered on it to players in the long run (usually count goes to millions). So it doesn't necessarily mean that if you bet 1000 ZAR in a slot, it will return you 960, it doesn't quite work like that.
If you choose higher volatility slots, you can expect larger payouts less frequently and more of your bet being returned as winnings in a single spin. If you choose lower volatility products, your chances of winning are greater, with smaller payouts and less of your bet being returned as winnings. It is important to understand that the RTP and Volatility of a slot game are completely independent and do not determine one another. Once you understand the basics, you can easily choose Supabets online slots with payouts that suit your budget and playing style.
Supabets Instant Games Types
The instant games section on the website includes 4 other categories, besides slots (Vegas Spins): Vegas Tables, Vegas Cards, Vegas Games and Supa Events
Vegas Tables
Roulette
Many types of Roulette games are available at Supabets casino, including Lightning Roulette, Spin and Win, and Vegas Roulette.
Dice
The game of Dice Duel was the talk of South Africa before Lightning Dice arriving on the scene. With up to 1000x multipliers at your fingertips, you never know when a huge win is just around the corner!
Vegas Cards
Baccarat
Supabets offers a lot of different baccarat games with different rules. Speed Baccarat is punters' favourite because it has shorter rounds so that you can play more hands simultaneously. Super Sic Bo is also fun because players can benefit from random multipliers that boost their bets to 1000x!
Blackjack and Poker
You can play different types of blackjack on Supabets. Classic Blackjack, Speed Blackjack, and Infinite Blackjack are some games you can play. First Person Blackjack is another game you can play by yourself. Most of the blackjack games on Supabets are provided by Evolution Gaming, a gambling giant with licenses worldwide. At least 20 different blackjack tables are available to play with stakes ranging from R5 to R25 000 a hand!
Also, there are 8 different types of poker available in the Supabets poker lobby, including traditional games like Classic Hold'em and Ultimate Hold'em, as well as more unique games like Caribbean Stud and Side Bet City. Additionally, BetGames provides two poker solutions on Supabets. In Bet on Poker, the best 5-card combination wins using your cards and the community cards. In 6+ Poker, the lowest card number in the deck is a 6, so big hands are often in play!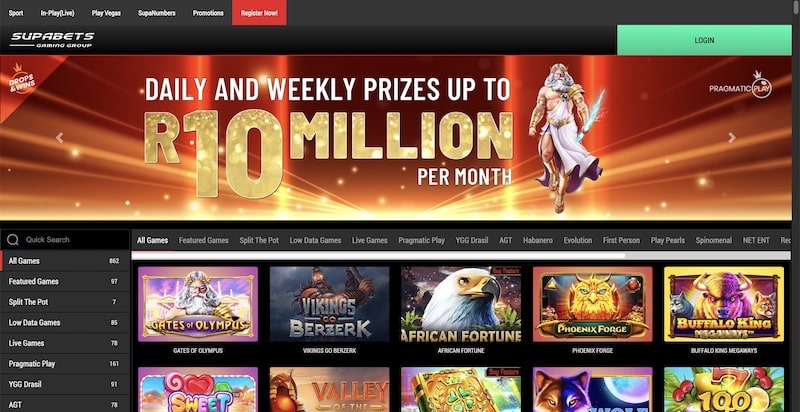 Vegas Games
The Instant Games section of Evolution provides entertaining titles like Crazy Time (Wheel of Fortune alternative), Dream Catcher and Gonzo's Treasure Hunt. You can also find Pragmatic Play's Mega Wheel or Sweet Bonanza Candyland. Scratchcards and Split the Pot cash games are additional options available, plus an array of virtual activities such as football matches, horse races and even camel races, the variety of betting choices is impressive!
Supa Events
Supabets Jackpot Race
Hollywoodbets and Supabets both have jackpot races where you can win money. On Friday nights from 8 pm to 10 pm, you can play the Supabets Jackpot Race and win your share of R100 000. To qualify, you just need to spin for R2 or more on any counted slots.
Free Spins Offers
You can get free spins on Supabets every Monday and Thursday. You just need to have an online account and have R20 or more in your account. Each week, Supabets changes the game so you can play with the free spins. This means you could win a big cash prize without spending money!
About Supabets
Supabets is one of the most reliable betting companies, with a multitude of sports and other gambling choices such as pre-match and live betting, live casino games, Lucky Numbers, and other exciting entertainment features. Supabets is a licensed company in South Africa, which means a Western Cape Gambling and Racing Board regulates their activities.
The deposit and withdrawal options are extensive too, ensuring everyone's preferences can be met. What's important is that they have it all covered in terms of safety and quality play. The company has a good reputation on the market and a lot of positive feedback from users. So we can confidently say that Supabets ticks every box to ensure you get the best possible gaming experience.
FAQ
Conclusion
Supabets Instant Games offers a wide variety of slots, tables, and other instant-play titles. With top providers like Habanero, Pragmatic Play, Yggdrasil and NetEnt there is something for everyone. You can participate in Supabets Jackpot Race and Free Spins promotions twice a week. With regular competitions and bonuses, you can enjoy hours of entertainment at Supabets!
The addition of licensed slot games from top providers to betting sites in South Africa is a good trend, allowing these companies to remain competitive with land-based casinos and even surpass them in terms of convenience and supply to users. Online stands as the key component that brings all factors of gambling together and ensures online bookmakers across South Africa can provide customers with a great and fun experience!