Hot Hot Fruit Game | Review and Demo
Hot Hot Fruit encapsulates the classic "fruity" style which dates back to the earliest days of slot machines. This game will seem incredibly familiar if you've ever been in a land-based casino!
And now, it is one of the most renowned names in the Hollywoodbets Spina Zonke collection! Having 5 reels and 15 pay lines with bets starting from just 30c per spin. Its simple, but attractive design flawlessly blends old-school elements like neon lighting, modern bonus features, and melodies into an exciting package.
Try it in the demo or play with real money by following the link below
Play Hot Hot Fruit at these casinos
How to Play Hot Hot Fruit?
If you are already a registered user to play Spina Zonke, you can step up to the Hot Hot Fruit slot and be mesmerized by its old-fashioned retro design. Enjoy a gaming experience with 5 symbols, 2 High Win ("7″ & BAR") and 3 Low Win ones ("Plum", "Orange" and "Watermelon"), plus an alluring wild symbol which stands in for any other icon on the reel.
To play Hot Hot Fruit, use the buttons to control the slot machine and place your bets. Select the icon with the cog and coins to see your betting options.
"Bet Level" and "Coin" increase or decrease your bets. The maximum bet level is 10, and the maximum coin size is 2.
When you are ready, click the button to spin the wheel. You can also stop it by clicking the button.
Click the "Max Bet" button to bet the maximum amount = 300 ZAR.
Hit the "Auto Play" button to play the game for up to 200 spins automatically. You can also choose when to stop playing. You might stop when your balance goes up, you win a lot, or the Hot Hot fruit feature is triggered.
Hot Hot Feature
This feature is activated at random during any given spin, and it involves choosing characters at random and fixing their appearance so that they count as winning symbols. This can greatly increase your chances of hitting a winning combination.
You'll know if the feature is on because the symbols located on your screen will light up! In this feature, every "Wild", "Bar", "Plum" or "Orange" sign can turn into a double symbol of its kind and therefore boost your winnings. The "7" icon is an exception, as it may transform into triple 7s to help bring in more money from the slot machine!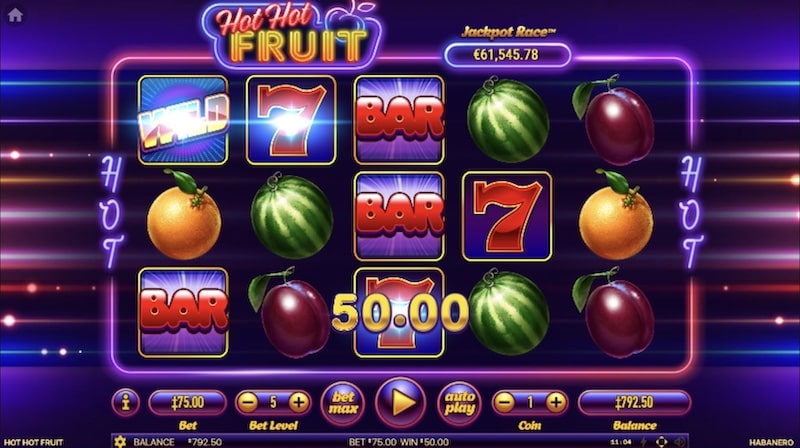 Paylines and payouts
Hot Hot Fruit offers 15 paylines that players can bet on. They are similar to those found in most slot games and are used to create winning combinations. It's important to check the paylines table and understand how they work, as you will be more informed on how to play the game.
Another important aspect of Hot Hot Fruit is the payout structure. The game offers a variety of different prize levels, depending on the combination of symbols you hit. To help you we have put together the Hot Hot Fruit payout structure, here is an overview of various symbols and their respective payments. The X signifies how much your bet will be multiplied by when you get a certain number of symbols.
| Symbols | Plum | Orange | Watermelon | 7 | Hollywoodbets |
| --- | --- | --- | --- | --- | --- |
| 3 | 1.3x | 1.3x | 1.3x | 1.6x | 1.3x |
| 4 | 2.6x | 2.6x | 2.6x | 3.6x | 3x |
| 5 | 5x | 4x | 3.6x | 7x | 6x |
| 6 | 9x | 7x | 6x | 11x | 12x |
| 7 | 11x | 9x | 7x | 21x | 14x |
| 8 | 14x | 12x | 11x | 27x | 17x |
| 9 | 17x | 14x | 12x | 34x | 21x |
| 10 | 51x | 41x | 34x | 41x | 61x |
| 11 | – | – | – | 51x | – |
| 12 | – | – | – | 54x | – |
| 13 | – | – | – | 81x | – |
| 14 | – | – | – | 267x | – |
| 15 | – | – | – | 1667x | – |
Payout Structure
Bonus games in Hot Hot Fruit
One of the most exciting aspects of Hot Hot Fruit is the bonus games feature. Players can earn free spins through various in-game features. When 3 or more "Wild" symbols appear horizontally on either reels 1 or 2 and/or reels 4 and 5, you're granted 6 free games. To take advantage of 12 free games instead, the same number of Wilds must be matched horizontally across both reel sets! Best part? It's all free for you to spin without having to place a bet.
These free spins can greatly increase your chances of winning without spending more money on betting. The bonus games feature can also trigger other special features like wilds and multipliers to increase the chances of hitting a big bonus win.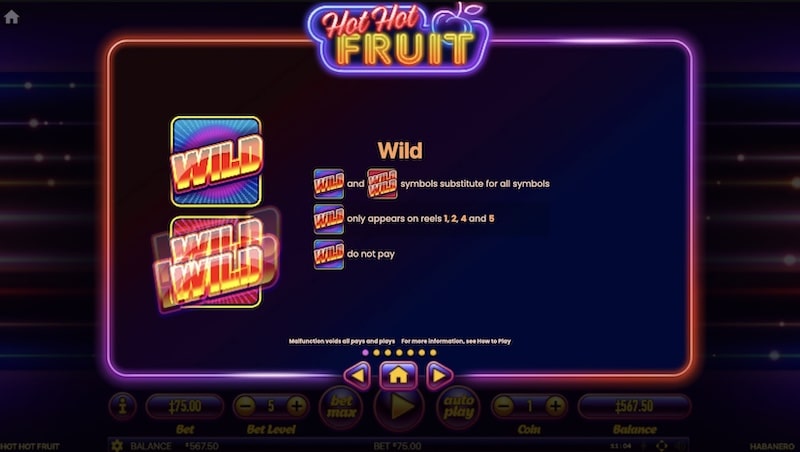 Hot Hot Fruit RTP %
The game has a high RTP of 96.5% and medium volatility so players can expect frequent winning combinations. This makes it an exciting and potentially profitable game for players.
Also, we have demo reviews like this one for Wealth Inn and Lucky Lucky, check them out!
Conclusion
Overall, Hot Hot Fruit is a fun and exciting slot game with a unique Hot Hot Feature, free games, and various winning opportunities. You can increase your chances of winning by understanding the features, paylines, free bonus games, payouts, betting and win limits, RTP and volatility! Remember to play responsibly and always keep an eye on your bankroll. To get more ideas and tips, read our full overview with top games of the Spina Zonke that punters love.