Wealth Inn Game | Demo and Review
Wealth Inn is always on different top lists for the best Spina Zonke games to play because it is so simple and exciting. If you are a beginner, there is no better way to learn Spina Zonke than by playing this game.
Play Wealth Inn demo
Play Wealth Inn at these casinos
What is Wealth Inn on Hollywoodbets?
Experience the thrill of winning big with Wealth Inn Spina Zonke, a colourful Chinese topic game. This beloved slot has been consistently ranked in Hollywoodbets' top games due to its simplicity and enjoyable nature – making it a perfect choice for beginner players looking to master Spina Zonke. Wealth Inn is a perfect place for starters with plenty of ways to grab a win!
Don't let Wealth Inn's limited features and just 8 paylines fool you, this 3-reel game is one of Hollywoodbets' best and the expanding wilds feature offers plenty of entertainment, even for experienced gamblers. While there may be no free spins or bonus rounds available, the simple yet beautiful design makes it worth a spin. So if you're new to Spina Zonke and want to give online gambling a try, this might be a great fit!
Make sure to also read our reviews and play demos of Lucky Lucky and Hot Hot Fruit!
How to play Wealth Inn at Hollywoodbets
If you're ready to jump into Wealth Inn you need to pick your bet level and press spin, that's it! If you'd like more information before getting started, feel free to check out our beginner's guide below, here are some steps that'll get you going with this fun and exciting game:
First, you must register to play Spina Zonke. To complete the registration process first.
Once you're all set, click the Spina Zonke tab from the menu at your screen's centre. After that, pick Wealth Inn, you can type in the search box or filter out games by choosing "Habanero" provider.
Read its paytable for an overview of how symbols function before selecting "I accept" to continue playing.
Then adjust Bet Level and Coin size—until you arrive at your comfortable Total Bet amount.
Finally, hit spin with either button or Auto Play feature, it can run up to 200 spins continuously!
Game interface
Playing Wealth Inn Spina Zonke is very straightforward. To start, players will select the amount they wish to bet and the number of paylines they wish to activate. Once this is done, they can spin the reels and watch as the symbols land.
Wealth Inn Spina Zonke offers a variety of unique features that make the game even more exciting. One of the most notable features is the wild symbol, represented by the Cashien. This symbol can substitute for any other symbol on the reels, making it easier to create winning combinations.
The game also boasts impressive graphics and sound effects, which help to create a fully immersive gaming experience. The symbols are detailed and colourful, and the sound effects are pretty engaging.
Symbols in the Wealth Inn
When playing Wealth Inn, you'll have to locate the various symbols associated with its Chinese motif. Three matching images in a row will bring rewards and prizes depending on their value. Caishen – the God of Prosperity – offers 24x your stake as one of the highest-paying symbols. Additionally, check for additional high-win symbols such as Peach Fruit, Jade Pendant and Golden Sycee for immense jackpots. Don't forget to look out for Knots coloured red, green or gold – they offer lower but profitable gains!
The Cashien symbol also referred to as "Wild," can act as a stand-in for any other symbol on the board. This feature is advantageous since it allows you to form combinations that would otherwise not be possible. To illustrate, when two standard symbols and one Cashien align in the same row, you win and the reward is credited to your balance (the amount depends on the value of the least valuable symbol).
What are the payouts?
Not all symbols are equal in Wealth Inn. Some appear more often than others. Therefore they have smaller payout rates. Yet regardless of your bet size, you can still win phenomenal amounts. The Cashien and Peach symbols offer great rewards if you're lucky to land them on your reels.
Here is a list of payouts depending on a symbol:
| Symbol | Payout |
| --- | --- |
| Cashien (wild symbol) | 24x |
| Peach | 8x |
| Jade Pendant | 4x |
| Gold sycee | 3x |
| Gold knot | 2x |
| Red knot | 1.6x |
| Green knot | 1.3x |
| Any (mixed) | 1.2x |
Payout structure
Wealth Inn RTP %
When deciding which slot game to play at Hollywoodbets or any other sportsbook or casino, it is essential to consider the game's Return To Player (RTP) value. This metric displays how much money a player can expect in return on average in a long run.
Wealth Inn is a low-volatility slot with an incredibly generous RTP of 96.64%. This means that while wins are small in value, they will come regularly and frequently. The highest amount you can potentially win on Wealth Inn is 1,504x your initial bet! For extra incentives, there's even a wild symbol thrown into the mix that could serve as an added boost to your payout.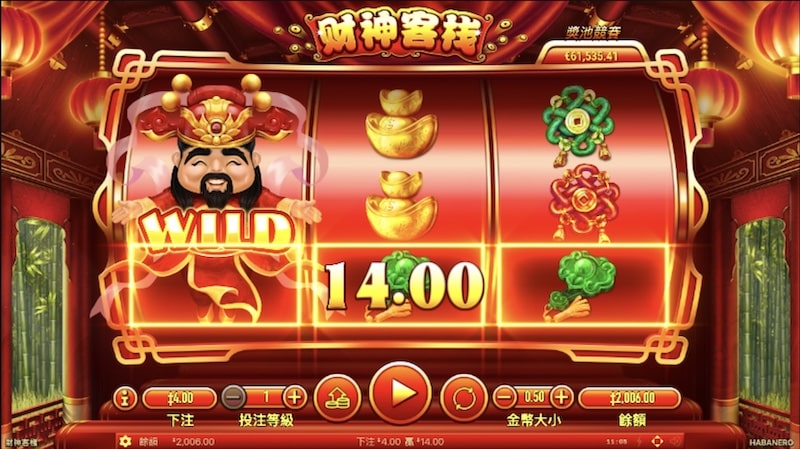 How to win big in Wealth Inn?
To win big in Wealth Inn, you must hit the high-value symbols. Aim for the Cashien symbol and watch as your wins start rolling in! Land three or more of these symbols on a payline and you could be rewarded with up to 1504x of your initial bet.
Also, keep an eye out for the Auto Play feature, this will allow you to set the game to run up to 200 spins continuously without any input from you. This is a great way to increase your chances of winning, especially if you're confident in your strategy.
Conclusion
In conclusion, Wealth Inn is one of the top Spina Zonke games that offers players a convenient gambling experience and a chance to win with great multipliers. The game's simplicity and colourful Chinese theme make it stand out from other online slots and the authentic sound effects add to the excitement. Overall, it is worth checking out – with simple gameplay, generous paylines, and attractive symbols, this pick is sure to provide hours of entertainment. If you are keen to learn more about Spina Zonke – see our full guide and overview of this section on Hollywoodbets!