Betgames Dice Duel Strategy | Tips and Review
Betgames Dice Duel is a thrilling and entertaining way to wager on dice games, with the croupier rolling two dice from the cup. Bet on value, odd or even number outcomes, colours and different possibilities for maximum excitement!
This relatively new title from BetGames was launched in October 2020, providing players worldwide 24/7 access and making it one of their most successful releases until the present moment. Make sure to check it out, as this game adds a significant fun factor to the online gaming experience.
BetGames is renowned for its stunning studios and beautiful game hosts which has been true for Dice Duel as well. The studio is well-designed and not only immerses players in the action but also provides them with more than 20 unique betting options! Let's dive into how to play Dice Duel below.
How Dice Duel works
Dice Duel utilizes only the essentials: two classic dice with faces numbered 1-6 and an elevated surface accompanied by marked areas for placing wagers. The host shakes the cubes in their snake cup, and players watch as their luck is determined by the random numbers that roll out.
I think the best entry point is after a draw; for example, wait for a draw, then risk with a high stake. There is a low chance of draws occurring back to back.

Adam, live games enthusiast
Game Play
Dice Duel requires two dice – one red and one blue – both with six sides numbered from 1 to 6. The game's goal is straightforward: you need to guess what the outcomes of the dice will be. No special strategies or skills are needed, making it ideal for beginners, experienced players and even high rollers! To begin playing, the presenter will mix up the pair before rolling them out onto the gaming table.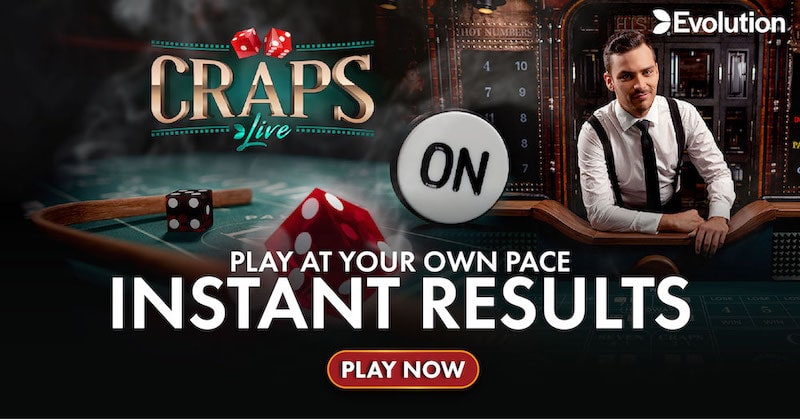 During a draw, the dice will be rolled only once and repeated if necessary, so both dice are lying on one side to form a combination. Betting rounds occur between each game draw, usually lasting around 30 seconds, with draws occurring every minute. So considering the short time for making bets, the action is quite fast and engaging – punters can place their wagers on several draws within minutes. Also, live streaming is 24/7, so you can enjoy this game at any time you want!
I think to choose red or blue, if you lose, then you double the stake. If you lose again, then you double the last stake, and when you eventually win, you are guaranteed some profit.

Scott, with Martingale system strategy
Despite the overall simplicity Dice Duel is not lacking betting options! You can guess which dice will show the higher number or if it's a certain colour, you can also try predicting the total sum and the exact number on each dice. So this game has plenty of wagering opportunities for different tastes and risk tolerance.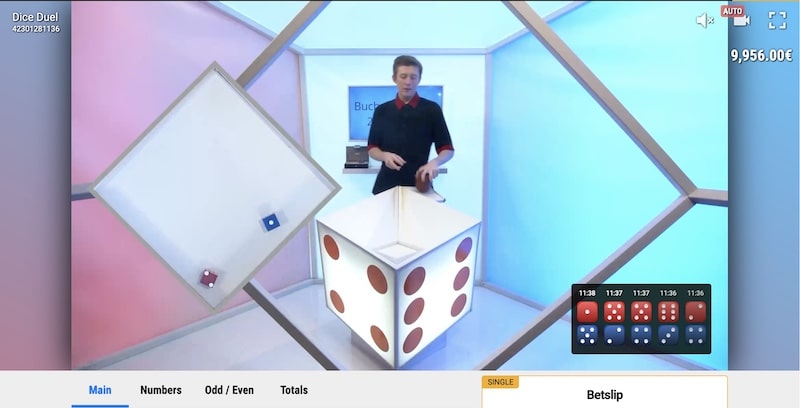 Betgames Dice betting options
Combinations – you can predict the exact set of possible results that might come up after a roll. Betting options include predicting whether there will be at least one pair with the same face value or if faces are different.
Total sum – wager on whether the combined values add up to more or less than an already determined number, like being under 17.5!
With Odd/Even, players can attempt to predict the number of dice with odd and even face values in a roll.
With Multi Bets, you must choose pairs of numbers that appear together or sequences for greater rewards.
Where to Play Dice Duel?
You can play Dice Duel on these reputable casinos that have Betgames provider in stock:
FAQ
Conclusion
We think Betgames Dice is a fantastic addition, and punters will find hours of joy in playing this game, which is quite different from the usual Lucky Numbers series (Lucky 5, Lucky 6 and Lucky 7) or Wheel of Fortune. We're certain this will be a big hit for players, and we're excited to see what BetGames release next!