Betgames Lucky 7 | Review and Tips
South Africa's third and final live lottery game is complete with Betgames Lucky 7, a new way for punters to take their chances in a thrilling betting experience. With a range of staking options available such as specific numbers, sums, or odd/even outcomes, there are a lot of possibilities to win. Betgames Lucky 7 is a fast-paced and exciting game of chance that can be played with ease by anyone. It is one of the most popular games in SA online casinos, allowing players to win big cash prizes.
This guide will teach you everything you need to know about Betgames Lucky 7 – from how to play and what bets are available to the best strategies and tips for increasing your chances of winning. So, if you're looking for an exciting game of Lucky Numbers with great potential rewards, let's get started!
How and where to play Lucky 7?
You don't need to know much about how to play Lucky 7 as the game process is very similar to a classic lottery. The game has seven balls drawn randomly from a pool of 42. If you bet on the right numbers or outcomes you can win as big as 2000x on your stake so that the game can be very rewarding, we'll have a deeper look at betting options. You can try your luck with these betting companies, they all have an excellent reputation on the South African market and have Lucky 7 in stock.
Betting Options
Betgames Lucky 7 offers a wide range of betting options for players with six different ways to bet and 78 possible combinations! Players can bet on specific numbers, sums, colours or odd/even outcomes. Whether you're an experienced punter looking for a new challenge or just starting in online gambling, Betgames Lucky 7 will surely provide you with plenty of excitement and potential rewards. So let's take a closer look at what this game offers!
Numbers
You can gamble and test your luck in a classic lotto-style game. Pick the numbers you believe will be randomly chosen from 1 to 42. If all of your guesses are correct, you win.
Black/Yellow Total Sum
Lucky 7 allows players to challenge their luck with two colour options – yellow and black. Classic betting action takes place you choose the colour, as you take a gamble on which will come out victoriously!
Total Sum
In this bet, you have to choose between "over" or "under" of a total sum of numbers that will come out, and you could be in for a nice reward.
Total Count
You can place your bets on the number or absence of coloured balls you think may be drawn.
Odd/Even
You can also bet whether the total sum will be even or odd.
Black/Yellow
In this bet try to predict the colours of the balls that will be drawn. Try a range of combinations, such as when and how many balls will appear in a particular colour.
Where to find the results of Lucky 7
Results of the past five draws are listed on the game lobby page, so you can see the past progress and make smarter bets by outlining the trends. However, if you are participating in a live draw this window can't be opened as the live action is taking place. If you don't want to wait and watch every four minutes, you can leave it up to chance. Your results will be added to your slip at the end.
You can also check the results of Lucky 7 on Betgames' official website by clicking on the "Results" tab in the top menu, all rounds that have happened are recorded for you to see.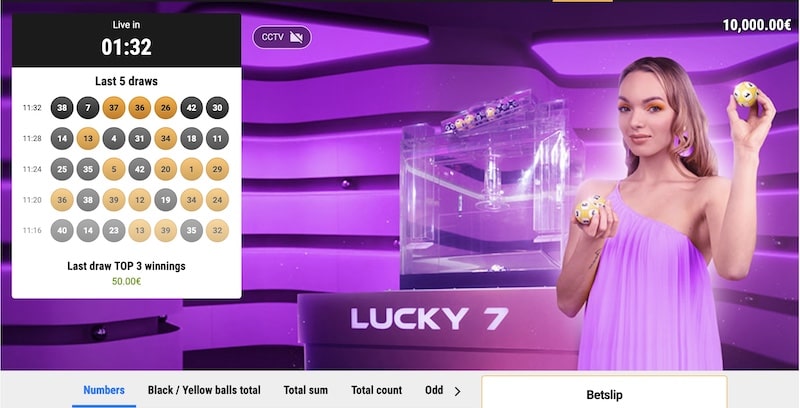 Strategy and Tips
Betgames Lucky 7 is a game of luck and chance, so no one-size-fits-all strategy can guarantee you'll win. However, if you're looking to increase your chances of winning, try these helpful tips:
• Use the "hot numbers" feature – this shows the numbers drawn most often in the last few games and can help you predict which ones are more likely to come up.
• Keep a keen eye on the results and watch out for dominant colours, one trend can give players an edge: whenever black appears to dominate over yellow balls or vice versa, look ahead at predicting which colour will win the next round!
• Start with small bets – this will allow you to test a strategy without investing too much money at once and also allow you to learn from your mistakes without breaking the bank.
• Spread your bets – don't put all your eggs in one basket; spread out your bets over multiple rounds and betting types. This will give you a better chance of success overall.
• Watch the live draws – watching the draw life can help you understand how the game works and give you more insight into which numbers are coming up more often than others.
• Don't go overboard – gambling can be addictive, so don't get carried away and bet too much at once.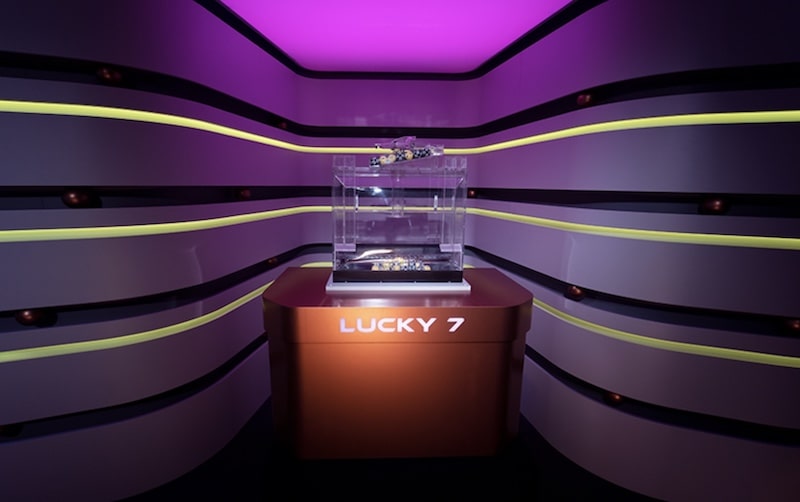 Where can I play Lucky 7?
Experience BetGames Lucky 7 at numerous online casinos and betting sites, including the renowned YesPlay company. Locate the game lobby and begin playing – it's effortless! Catering to high-rollers and casual players alike, Lucky 7 delivers the excitement of gambling with constantly shifting odds and unforeseen outcomes.
Don't forget to check out our recommended betting sites listed above where you can enjoy this exciting game. You can also read our guides on Lucky 5, Lucky 6, Dice Duel and Wheel of Fortune to learn more about this range of games from the Betgames provider.